Malvern Festival of Ideas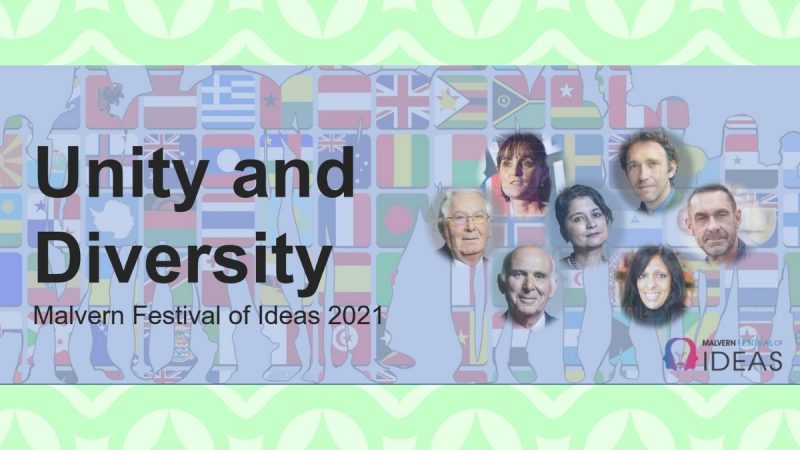 The Malvern Festival of Ideas, a multidisciplinary festival of ideas that takes place in Malvern, Worcestershire, will be an online event in 2021 taking place over the weekend of 5-7 March 2021. Speakers include Baroness Shami Chakrabarti, Sir Vince Cable, Lord Mervyn King, Professor Kalwant Bhopal, and Paul Mason.
The festival is organised by Andrew Webb of Cotswolds Unitarians and Malvern Transformers. Many Unitarians are involved in the festival, with sessions hosted by Rev Winnie Gordon and Rev Mark Hutchinson as well as music by ministry student Elizabeth Harley.
The title of the Festival is Unity and Diversity. Over recent years there has been increasing polarisation in debates in the public domain, fuelled in part by Brexit but also other factors. More recently, there has been much talk about unity as brought about internationally by the global pandemic. Is the uniting force in some ways is stronger than divisions? What can we learn from our (positive) experiences and build on to face future threats and how? How do we need to change? What reforms are needed?
The programme includes prominent names from the world of health, journalism, politics and finance. The opening speaker is Shami Chakrabarti, speaking on 'Unity, Diversity and Hope for the Future'. Other speakers include author and historian Rachel Holmes; doctor and academic John Ashton; politician and author Vince Cable; economist Mervyn King; political commentator Paul Mason; climatologist Mark Maslin; philosopher Roman Krznaric; academic Kalwant Bhopal; and journalist Amelia Gentleman.
Registering for the Festival enables participants to put their questions to the speakers via the session host.
In addition, there is a programme of open-access science talks for all ages on Saturday 6 March. These include topics such as The Science of Superheroes with Robert Walsh; Zooniverse for community building, led by Chicago-based astrophysicist Grace Wolf-Chase; and environmental impact of everyday tasks led by Scientists for Global Responsibility. A recent addition to the programme is a session where Professor Clifford V. Johnson, physicist and author of The Dialogues and award-winning science writer Philip Ball, author the forthcoming The Beauty of Chemistry, discuss themes and ideas from their latest books about the interplay of art and science, how it enhances engagement with the world around us, and whether it even plays a role in research and discovery.