Hucklow Summer School: Continuing the Conversation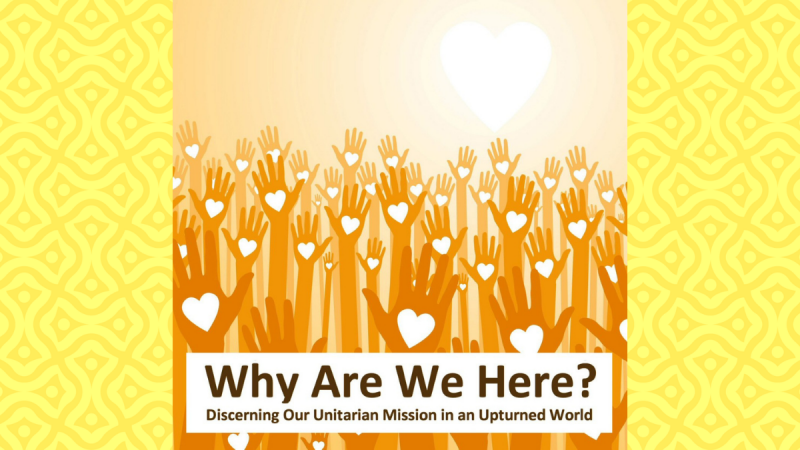 Thanks to all who joined us for our online Summer School to explore the question: 'Why are we here? Discerning our Unitarian mission in an upturned world'. If you weren't able to join us live – fear not! – recordings of all the events are now up on our YouTube channel:
We would love it if the questions and ideas raised in these talks were to be explored more widely in the denomination. Why not share these links with others in your congregation, fellowship, or society, and perhaps plan to have a conversation about the issues that arise from them? Or maybe write your own reflections to share in a service, in your newsletter, or on social media? Let's keep the conversation going.
We are grateful for all the feedback we've recieved on the week's events. If you want to get in touch with any appreciation for the speakers we'd be happy to pass it on.
Book Now for the first of our 'Why Are We Here?' Online Mini-Retreats:
We are also pleased to let you know that we are planning a series of follow-up online 'mini-retreats' on Zoom exploring this year's theme and what it might mean for us in practice and in context. The first one, exploring the introductory themes of Jane's opening night worship, will be on Saturday 25 September from 2-5pm.
These will be contemplative events where we will take each of the theme talks, and the opening night worship, in turn and we will consider a few questions related to that particular aspect of the theme. We're not going to be giving you lots of extra content – instead this is an opportunity for you to go deeper in your own reflection – to make links with your own context so that we can put this stuff into practice and start to transform our churches (and perhaps the world). The format of these retreats is really simple: we will lead you in some guided reflection, you'll have a good stretch of time to quietly do your own pondering, and then there'll be opportunities to share your insights in carefully-facilitated contemplative small groups. This is not a space for debate or discussion but a place for us to do our own work and share with care.
Please email Jane Blackall to sign up. Places will be limited. We will be in touch a few days before the event with a link and more details. If the date of this first event really doesn't work for you but you are still keen to participate do get in touch, as if demand is high enough, we may run a repeat session.