The Art of Hybrid Worship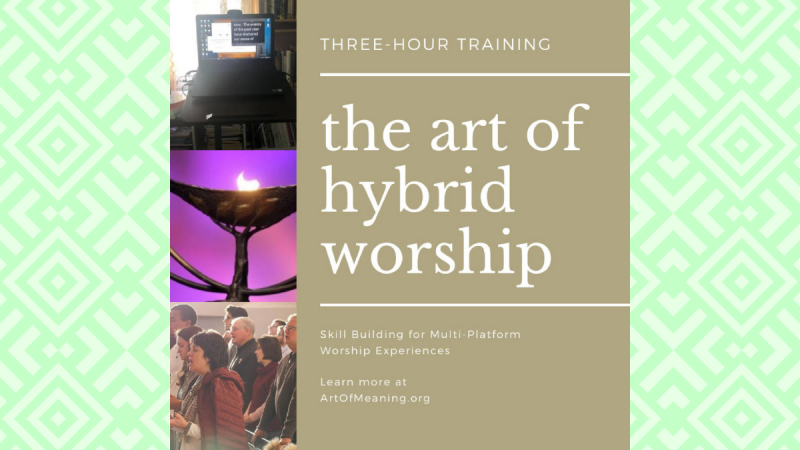 Exciting news for our congregations: thanks to a wonderful grant from the Hibbert Trust, we can offer this training to UK and Ireland congregations. The first offering will be on Saturday 31 July, 11am-3pm, with a break. If you can't make that one, it will be offered again on Saturday 18 September.
Whether you call it hybrid, or multi-platform, or blended, the way we will worship together is changing – technology is a part of our experience, and as we plan for life post-pandemic, we have a unique opportunity to craft our services in new and inclusive ways. The three-hour Art of Hybrid Worship Training is intended to help you with the details of your liturgy – from space and aesthetics, to transitions and camera work, to welcome and accessibility.
Rev. Kimberley Debus has offered to make this a bespoke training – she knows British Unitarianism is very different from the Unitarian Universalist Association, and is keen to tailor this to the goals of the congregations involved. It's not just about how to set up the cameras, but is an opportunity to reflect together on how we want to gather as communities, and how we want to get our method out to our neighbourhoods and to the wider world.
Saturday 31 July, 11am-3pm (with a mid-session break) Register here.
Saturday 18 September, 11am-3pm (with a mid-session break) Register here.
Spaces may be limited (up to 50), so sign up now!
You can register multiple people from your congregation, society, or district – teams can be really helpful, as you can discuss the workshop and your congregation together afterward and come up with some ideas. Any questions, please feel free to contact Rev. Bob Janis-Dillon (Congregational Connections Lead) or Louise Rogers.
Rev. Kimberley Debus is a consultant and community minister based in New York State, inspiring an artful and art-filled faith. She uses her background in theatre, television, and music performance in her consultations with congregations and religious professionals throughout Unitarian Universalism. She has previously served at the Church of the Larger Fellowship as well as congregations in New York and Florida.