Election Results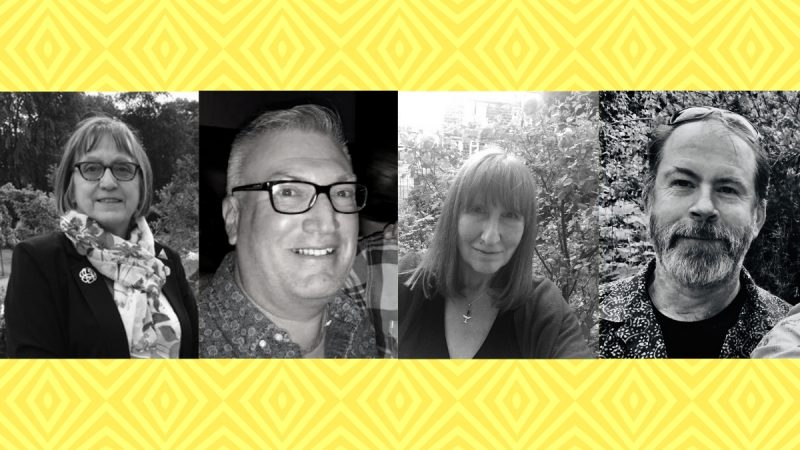 Photo: Rev Celia Cartwright, Simon Hall, Jenny Jacobs, and Rev Jo James
We are pleased to announce the election of four members to our Executive Committee: Rev Celia Cartwright, Simon Hall, Jenny Jacobs, and Rev Jo James. The Executive Committee act as trustees for the General Assembly (GA) and Nightingale Centre and work with the Chief Officer and other staff and volunteers to develop and oversee the strategic direction and smooth running of the GA.
We are conscious that there were no candidates in this election who were in their 20s, 30s, or 40s, as well as no people of colour. Diversity and equality are important to us as a movement, so we are keen to explore how we can support more people entering into positions of leadership, and to ensure we are listening to a wide range of voices.
An enormous thank you to all the candidates, voters and support staff and volunteers for making this election possible. You can find the full results below.
GENERAL ASSEMBLY OF UNITARIAN AND FREE CHRISTIAN CHURCHES
ELECTION TO THE EXECUTIVE COMMITTEE (EC) 2021
Result of ballot:
(4 to be elected)
| | | | |
| --- | --- | --- | --- |
| JOHN BATES | New Unity CIO | 699 | |
| REV CELIA CARTWRIGHT | Unitarian Peace Fellowship | 889 | ELECTED |
| SIMON HALL | Leicester Great Meeting | 701 | ELECTED |
| JENNY JACOBS | York Unitarians | 746 | ELECTED |
| REV JO JAMES | Mill Hill Chapel | 799 | ELECTED |
| Spoilt ballot papers | | 4 | |
| Total ballot papers received | | 1136 | 39% |
| Total ballot papers dispatched | | 2931 | |
Given the close vote, a 100% recount of all votes cast for all candidates was undertaken.
"Ballot papers were sent to Congregations for distribution to their members.  Ballot papers were sent directly to Executive Members and Lay Members.  Associate members were required to request a ballot paper, and to return it with a declaration to confirm it was the only ballot paper they returned in this election.  23 Associate members requested a ballot paper.
I am satisfied that there are no reasonable grounds for believing that there was any contravention of a requirement imposed by or under any enactment in relation to the ballot.
I am satisfied that the arrangements made with respect to the production, storage, distribution, return or other handling of the voting papers used in the ballot, and the arrangements for the counting of the votes, included all such security arrangements as were reasonably practicable for the purpose of minimising the risk that any unfairness or malpractice might occur.
I am satisfied that I have been able to carry out the functions conferred on me without any interference from the General Assembly of Unitarian and Free Christian Churches or any of its members, officials or employees."
Certified by:
Anne Hock
Independent Scrutineer, Popularis Ltd.
23 March 2021