Books
Find out more about Unitarianism, find resources for your gathering, or dive into some Unitarian thinking in this selection of books published by the Lindsey Press, our community-run publishing imprint.
These links will take you to the external sites, including Bookshop.org, supporting local bookshops. If you would prefer to make your purchase another way, you can ring our HQ to put in an order on +44 (020) 7240 2384. For security reasons, please do not share your bank details via email. To make an enquiry by email, click here.
You can also visit InSpirit, the online bookstore of our American sister organisation, the Unitarian Universalist Assocation, here.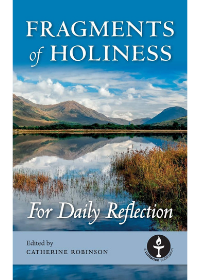 Fragments of Holiness: for Daily Reflection, edited by Catherine Robinson. A collection of reflective texts for every day of the year. More than half are insights offered by Unitarians, past and present, famous or unknown. The rest are insights borrowed from world faiths, humanist philosophers, writers, poets, and radical social thinkers. They could form part of a daily practice of personal reflection at the start or end of the day. They could also be used by small groups as a resource for contemplation and discussion. For worship leaders they may be a useful source of themes when planning services, especially as many of the entries commemorate notable dates in Unitarian history. Catherine Robinson is a member of the Oxford Unitarian congregation. Lindsey Press, 2019, ISBN 978-0853190912, softback RRP £9.