President Anne Mills reflects on Remembrance Sunday at the Cenotaph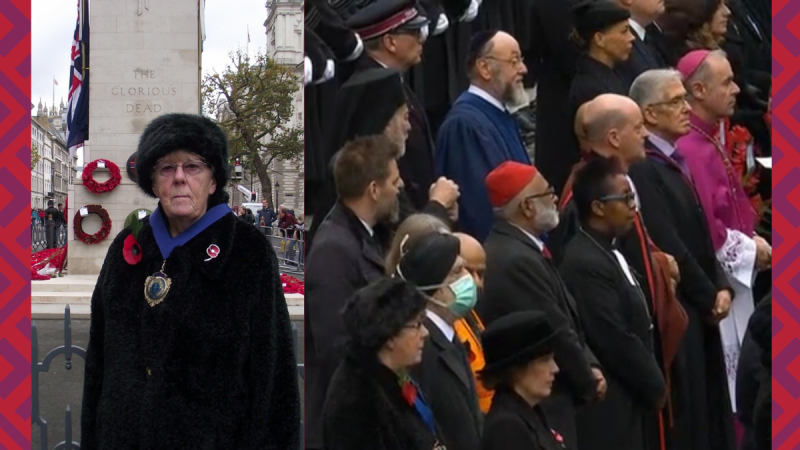 "I had been reminded most forcibly, as I always am, at this time of year, of the sacrifices made so that we, today, can live in relative peace, freedom and security."
On Remembrance Sunday we were represented by our President, Anne Mills, at the Cenotaph in London. Here, Anne reflects on the experience:
"November 14th saw me in London, at The Cenotaph, in Whitehall, to represent the Unitarian denomination – a great honour and a memorable and moving occasion for me.
A new, amalgamated, department organised the event and decided not to offer plus-1 invitations to VIP guests and not to provide refreshments afterwards. I was disappointed by the change, as I had hoped that my husband Roger might have been able to share the experience, in return for all the support he has given me during the past two and a half years.
Travel arrangements to Whitehall caused problems in many quarters; my driver put me down near Admiralty Arch and left me to fend for myself. I was eventually rescued by Bob, to whom I shall remain eternally grateful – I'm sure his senior responsibilities do not include looking after lost old ladies!
Once inside the Foreign and Commonwealth Department building, the faith leaders congregated in a corridor, ready to take their places, when the time came. I found the other leaders very pleasant, and we all chatted easily. Some of the politicians gave us a smile and a greeting, as they passed us. I was interested to see what tall, broad, powerful men John Major, Tony Blair and Lindsay Hoyle are; Rishi Sunak and Sadiq Khan, by contrast, are both short and slight, but no less impressive.
The faith leaders who had attended the Service on other occasions were kind enough to pass on the benefit of their experience (where to look to see the Royals queuing up, and remembering to look up at the cameras, once we stepped outside). We were stewarded into place, according to the numbers chalked on the ground, and, before we knew it, the Service had begun, with a gun-salute before and after the impressive two minutes of absolute silence. The television-broadcast almost certainly gives better coverage in terms of an overview of the event, and, since returning home, I have enjoyed watching what I was unable to see live!
Once we regained the F and CD premises, the faith-leaders prepared to leave – but not before some of us managed a group photograph, outside 10 Downing Street, taken by an on-duty policeman. Later, in the early afternoon, Roger and I went back to the Cenotaph, to view all the wreaths there and to take our official photographs of them, and me. I was approached by, and gave an interview to, a French journalist, who is based in London, but works for the French media; she seemed concerned, mostly, about the Queen's state of health, which is currently giving cause for concern and speculation.
We rounded off our afternoon by visiting the Field of Remembrance at Westminster Abbey; in the grounds, more than 100,000 poppies and crosses, representing those who had lost their lives, have been planted by volunteers – a moving sight and a fitting close to a day on which I had been reminded most forcibly, as I always am, at this time of year, of the sacrifices made so that we, today, can live in relative peace, freedom and security.
Both before and after the Service, I received many messages of goodwill and support from fellow-Unitarians across the country, all of which I greatly appreciated."