A Christmas Message from our President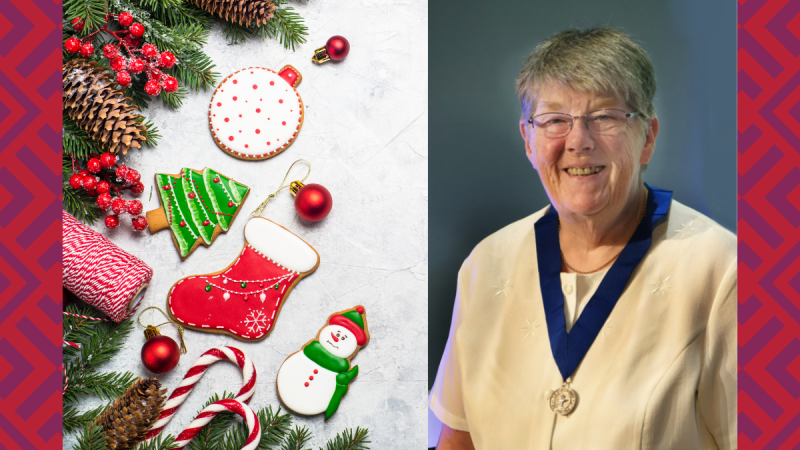 After an unpredictable and challenging year, our President Anne Mills, offers this Christmas message.
At this time, last year, I was preparing a Christmas service for one of my local Unitarian chapels; the weather was extremely cold and wet; daylight-hours were perceptibly shorter; and the number of Covid cases was soaring, despite the first vaccinations being rolled out. It was difficult to keep our spirits high, especially when the promised festive respite was reduced, at the last moment, from five days to just  Christmas Day. Christmas 2020 would be different, we said; there would be other years when we could celebrate under more usual circumstances.
With this in mind, my "Christmas with a Twist" Service contained a tribute to a chapel-member who had recently died, and Happy 70th Birthday wishes to another member, for whom we sang the time-honoured tune (into our masks, of course); and, instead of the Bible's version of the Nativity, I compiled a parallel piece from "The Book of God", by Walter Wangerin. Surprisingly, everything fitted together well, and enough traditional elements were retained to satisfy the congregation. However, now that "next year" is almost upon us, what awaits us, as we head towards 2022? Covid has not disappeared from our lives, and this seems unlikely to happen, despite the great strides made by medical science to deal with the pandemic-conditions which have, unfortunately, dominated our lives for so long. 
Recently, I have been re-reading "A Christmas Carol", by Charles Dickens; although this moral Victorian tale was written more than 170 years ago, its comments on quality of life remain relevant today. Ebenezer Scrooge, of "Bah, Humbug!" fame, is tight-fisted and materialistic, especially where the festive season, charitableness, and generosity of spirit are concerned; it is made clear that he is despised and scorned for his behaviour, loved by no-one, and avoided by many. Scrooge is visited by three spirits: the Ghosts of Christmas Past, Christmas Present, and Christmas Yet to Come, and, as a result, begins to realise that happiness and wealth do not necessarily sit comfortably together, and that those who achieve the greatest richness of spirit do so through their ability to appreciate what they have, rather than dwelling on what they have not, and by concentrating their hearts on what brings joy, cheer, and contentment to themselves and others. Scrooge's transformation is swift and powerful; he remembers happier times in his life, and shrinks from the hard heart he has cultivated; his desire to make amends is almost instantaneous, to the benefit of his nephew's family, and of Tiny Tim's, too.
And what can we learn from Scrooge, as we approach Christmas, 2021? It is tempting to judge our own happiness by how much we spend on presents, and on food and drink, especially at this season of the year; maybe we should ask ourselves how satisfied and fulfilled we feel, having dashed round the shops, returning bad-tempered, exhausted and penniless from such expeditions; maybe we should wonder how much others appreciate our actions? A year ago, we bemoaned the fact that we were unable to devote quality-time to our families; now, we have the opportunity to do so, to take pleasure in simply being with them, enjoying their company, rather than spending money on them. There is a great deal for us all to appreciate, including a roof over our heads, our health, our nearest and dearest, our freedom, and the chance to exist in a country at peace. 
If we feel that the periods of lockdown and isolation we have recently experienced have altered us, we should consider whether we ought to introduce changes into our personal lives. Could we, like Scrooge, become more compassionate? Could our New Year's Resolutions centre around changes to the benefit our own well-being, or that of others? We might decide that a house-move – possibly a relocation – would suit us, or that supporting a preferred charity would help those less fortunate than ourselves; we might determine how best to encourage desperately-needed climate-changes, as we try to save this poor planet of ours. Whatever decisions we make, if we abide by the true values of the Christmas tradition, we will surely find our hearts lighter and our lives enriched.
May I take this opportunity to wish you all a Christmas-period filled with love, blessings, joy and peace, and a New Year in which good health will abound, and hope will bring whatever our hearts most desire.
With warmest wishes,
Anne