LGBT+ Unitarian Voices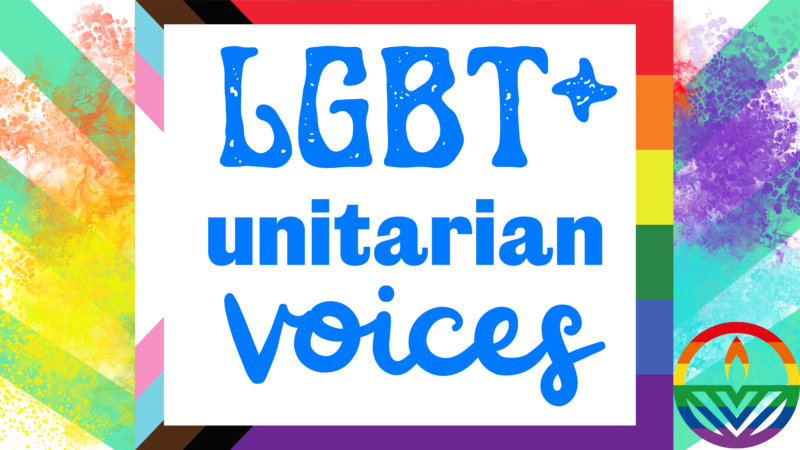 LGBT+ Unitarian Voices is a new project that lifts up the voices of LGBT+ Unitarians. We will gather, record, and share stories from the struggle for LGBT+ equality. We seek to learn from the past and to celebrate the movement's significant contribution to LGBT+ inclusion within the denomination and beyond.
Sadly many faith organisations today actively discriminate against and persecute LGBT+ people. We hope that by sharing LGBT+ Unitarian voices we will contribute to the struggles of all LGBT+ people of faith for equality, inclusion and respect. Elsewhere on our website you can find out more about Unitarian LGBT+ history, same-sex weddings, transgender rights, and more.
Watch this space for more information about the project!
PROJECT LEADERS
The project is led by two Unitarian HQ staff members, who are both trained historians. They are supported by an advisory panel made up of LGBT+ Unitarians.
Dr. Lizzie Kingston-Harrison
Lizzie earned her doctorate from the University of Sussex in 2010 with a thesis on the Unitarian radical Joseph Priestley. After a career in teaching, she joined the Unitarian HQ team in October 2021 as our Congregational Connections Lead. Lizzie grew up in Norwich and now lives in Suffolk with her husband and daughters. The beautiful coastal countryside and the grounded and welcoming community at Framlingham Unitarian Meeting House helped her to find a spiritual home. Contact Lizzie.
Rev. Dr. Rory Castle Jones
Like Lizzie, Rory left a career in education to work for the Unitarians. After earning his doctorate from Swansea University with a thesis on the radical thinker Rosa Luxemburg in 2016, he joined Unitarian HQ as our part-time Communications Officer in 2018 and completed his ministry training in 2021, beginning a ministry at Gellionnen Chapel near Swansea the same year. He lives in the Swansea Valley with his husband and their two dogs. Contact Rory.