Unitarians welcome new Religious Alliance for Dignity in Dying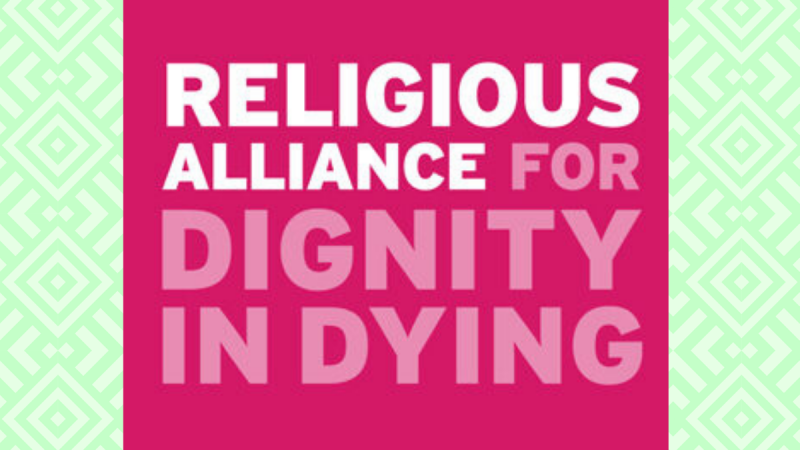 A group of multi-faith organisations, leaders and laypeople have come together to launch a new Religious Alliance for Dignity in Dying, calling for a change in the law to enable dying people choice and control over their death.
Liz Slade, Chief Officer of the Unitarians, said: "The Unitarian movement voted in 2013 on the issue of assisted dying. In our recognition of the worth and the dignity of all people and their freedom to believe as their consciences dictate, members voted to support the principle that individuals should have the right to seek support for assisted dying in certain circumstances, and that legislation should respect this choice and allow them compassionate assistance without fear of prosecution of anyone involved. Many Unitarians are passionately in favour of a change in the law, while recognising the need to allow a diversity of voices to be considered on this important moral issue."
Among its membership are followers of more than a dozen different denominations. They support a change in the law "because of their faith, not in spite of it", to enable terminally ill people the ability to determine how, when and where they die alongside high quality end of life care.
This comes as a private member's bill on assisted dying was introduced to the House of Lords last month by Baroness Meacher, Chair of Dignity in Dying, paving the way for the first debate on prospective legislation in Parliament for more than five years.
The Chief Executive of Liberal Judaism, Rabbi Charley Baginsky, the former Archbishop of Canterbury, Lord Carey and the Chair of the Modern Church, Alan Race have all joined and welcomed the new Religious Alliance, which is chaired by Rabbi Dr Jonathan Romain.
In a YouGov poll of 5,039 adults published in the Sunday Times yesterday, 53% of religious people felt it was wrong for religious leaders to actively campaign against an assisted dying bill that was debated in the House of Commons in 2015, with just 22% saying they felt it was right for them to do so.
Faith leaders including the Archbishop of Canterbury and the Archbishop of Westminster wrote to MPs in September 2015 to urge them to oppose the Second Reading of the assisted dying bill in the House of Commons. The bill was based on one introduced by Lord Falconer in 2014, which was supported by Peers both at Second Reading and at Committee Stage, where two opposition amendments were defeated by large margins. Unfortunately, the parliamentary session ended before it could progress further. Baroness Meacher's bill, also based on Lord Falconer's bill, was drawn seventh in the House of Lords private members' ballot last month and a Second Reading is expected in the autumn.
A 2019 Populus poll found that approximately 80% of religious people (and 84% of the general public) support the change proposed in Baroness Meacher's bill – namely that terminally ill, mentally competent adults in their final months would be able to request an assisted death, subject to approval from two independent doctors and a High Court judge.
Similar legislation has been in place in Oregon, USA for over 23 years, and has since been adopted by nine other American states plus the District of Columbia, three Australian states and New Zealand.
Rabbi Dr Jonathan Romain, Chair of the Religious Alliance for Dignity in Dying, said: "This new group is a truly multi-faith rallying call for a compassionate, safeguarded law on assisted dying for the UK, bringing together people who support true end-of-life choice because of their religious views, not in spite of them.
"In the 60 years since the blanket ban has been in place, medical advances have done wonders in prolonging life, but this often means prolonging the dying process too, causing suffering that may be beyond the reach of palliative care. Religious teaching evolves to deal with the challenges of modern life, so too should the options we offer people when they reach the end of it. That we continue to deny our dying citizens a choice that is now available in states and nations around the world is morally indefensible. It's time to have a national debate on assisted dying that respects all views while recognising the strong support among religious people."
Len Taphouse, 81, a former lecturer in engineering and father of three from Hornchurch, is a member of the Church of England and welcomes the new Religious Alliance for Dignity in Dying. Len accompanied his wife of 55 years, Stella, to die at Dignitas in Switzerland at her request in August 2019. Stella was terminally ill with Parkinson's disease and breast cancer, and in previous years had been diagnosed with cancer of the womb and skin. Len said:
"I was brought up as a regular church-goer, and in 2014 Stella and I renewed our vows 50 years later in the very same church we got married in. Neither of us found our faith a barrier to supporting Stella's decision, quite the opposite. But this option should have been available here at home. Stella should not have had to spend £11,000 and my daughters and I should not have had to break the law and risk prosecution to accompany her in her final moments. It's time the law was changed so that people like Stella can die as they wish in this country, surrounded by those they love, in their own bed."
Tom Davies, Director of Campaigns and Communications at Dignity in Dying, said: "Medical organisations are increasingly recognising the range of views among their members, with doctors accepting that whatever their personal opinion they cannot deny their dying patients the choices they want. Religious organisations and faith leaders are now doing the same, recognising the support for change among their congregations and putting the choice and autonomy of those at the end of life before doctrine.
"With an assisted dying bill in the House of Lords, the Health Secretary commissioning data on suicides by terminally ill people, Scotland due to consult on potential legislation and Jersey conducting a citizen's jury on the subject, it is essential that parliamentarians across the British Isles understand that the vast majority of the pubic, with faith and without, want change."