Same-sex blessings in the Church In Wales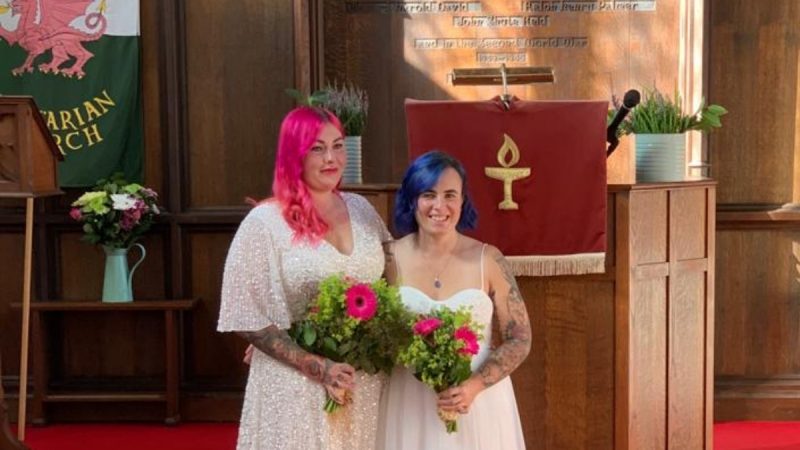 As the Church In Wales makes the headlines by voting to offer blessings to same-sex couples, we want to take this opportunity to remind you that there are currently just 25 places of worship in Wales which offer same-sex marriage ceremonies, which have been legally possible since 2014.* The blessings which are to be offered by the Church In Wales, whilst important to the couples involved and a step in the right direction, are not marriage ceremonies.
Of those 25 places of worship offering same-sex marriage ceremonies in Wales, eight are Unitarian chapels and churches, making us the largest denomination offering same-sex marriage ceremonies in Wales. Whilst we are delighted to be leading the way, it should not be this way. We are a relatively tiny denomination and hundreds of chapels and churches out there are continuing to discriminate against LGBT+ people by refusing to grant them equality.
Rev. Melda Grantham, Secretary of the Welsh Department of the General Assembly of Unitarian & Free Christian Churches, said: "Welsh Unitarians are very proud to be able to offer equal marriage ceremonies and are delighted to welcome same sex couples in to our Unitarian communities. We congratulate the Church in Wales on taking this first step towards equality."
We hope and pray to see change and progress across all denominations and faiths in Wales and elsewhere soon. In the meantime, if you are looking for a same-sex marriage ceremony in Wales, find your nearest Unitarian chapel using this search tool.
Read more about this story in The Guardian, Wales Online, and BBC News.
Photo above: Wedding at Swansea Unitarian Church, 2020
*These statistics are only for places of worship required to register for marriage ceremonies, which for historical reasons excludes the Society of Friends (Quakers) and Jewish places of worship, many of which do offer same-sex marriage ceremonies to their own members.