Two new ministers from Oxford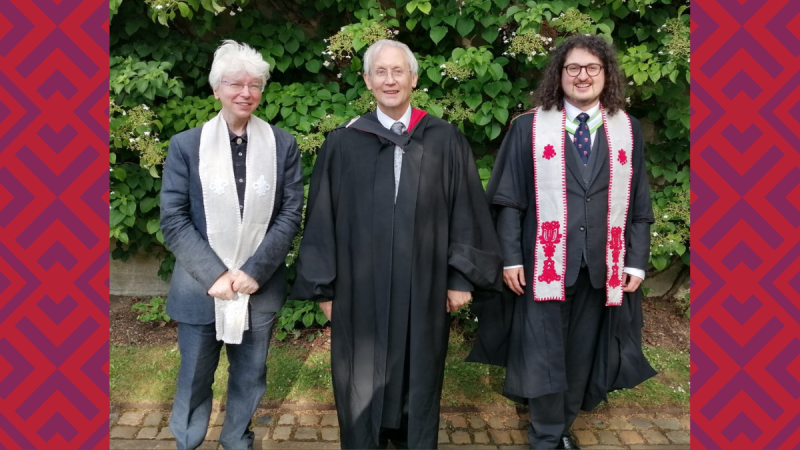 Photo: Rev. Michael Allured, Rev. Alex Bradley (Tutor) & Rev. Robin Hanford
This year, two students have completed their training at Harris Manchester College, Oxford, and been accepted onto the Roll of Ministers. Rev. Michael Allured and Rev. Robin Hanford had their Valediction Service at the College's chapel in June, with a small congregation of tutors, family and friends present in line with covid-19 guidance. Now, Michael and Robin share some of their feelings about completing their training during the pandemic and their future ministries:
Rev. Michael Allured said:
"I am honoured to become a Unitarian minister and proud to join my husband Feargus on the GA ministerial Roll. Thanks to him and everyone who has encouraged and supported me on a journey that began at Golders Green Unitarians in 1989. To be a minister of religion is a tremendous privilege and I'm deeply conscious of the responsibility that this role carries. I shall do all I can to live up to that honour in the coming years as I walk alongside fellow pilgrims in times of joy and sorrow. May we encourage each other in our continuing explorations and attempts to make sense of life's ultimate questions and what we are called to do for each other and for this precious and fragile world. It was joyful to share my valedictory service at Harris Manchester College, Oxford with Rev. Robin Hanford. Robin and I spent a year training together and I missed not joining him for his second year. So although I graduated in 2020 the 12 month wait for my valedictory service because of Covid-19 was worth it to celebrate in person with Robin and his family."
Rev. Robin Hanford said: "The last few years have been something of a whirlwind! I can still remember my interview at Harris Manchester College, and that feeling of euphoria when I was told that I had been accepted to train for ministry in the Unitarian and Free Christian Churches. In fact, it feels like it was only yesterday! That said, a lot of training has been crammed into two years. Training for ministry while living in Harris Manchester College and studying for a University of Oxford Postgraduate Diploma and being President of the college's Middle Common Room was a very busy but ever such a special and rewarding experience. One of the things I believe to be harder than training for ministry during a pandemic must be training a minister during a global pandemic! I owe huge thanks to all at Harris Manchester College for their support. I am also hugely grateful to the Oxford Unitarian congregation who could not have been more supportive of my student pastorate with them. Sharing a valediction service with Rev. Michael Allured was a very moving experience. Michael has been a huge source of support for me throughout my training. I know that we will continue to support each other as Ministers of Religion as much as we did when we were students."
Congratulations Michael and Robin and all the best for your future ministries!