Faith leaders unite to rebuke Policing Bill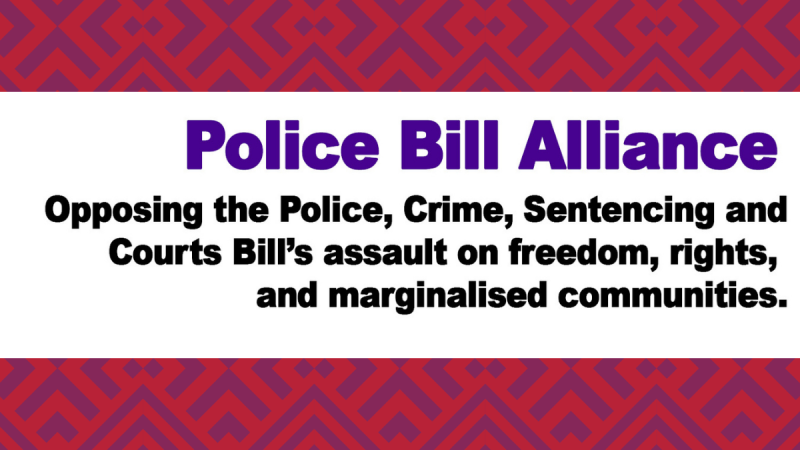 Letter signed by Board of Deputies of British Jews, Muslim Council of Britain, the Church of England and others, urges government to 'think again.'
Concerns the Bill will have a 'chilling effect' on aspects of practicing faith.
The Bill is declared 'unacceptable in a democratic society.'
The Unitarians have joined other religious, faith and belief groups in calling on the Government to rethink the controversial Police, Crime, Sentencing and Courts Bill, set to return to the House of Lords this week. 
In a scathing letter, published in The Independent and online, dozens of leaders, ranging from the Muslim Council of Britain and Board of Deputies of British Jews to the Church of England and Network of Sikh Organisations, warn of the 'chilling effect' the Bill could have on 'millions who put their faith or belief into practice' and declare it 'unacceptable in a democratic society.'

Part 3 of the Bill gives the police wide ranging powers to restrict the right to protest, including being able set noise limits. Faith leaders fear this could criminalise a range of religious activities including street preaching and chanting. There is also concern the Bill could lead to disproportionate policing on public acts of worship or prayer vigils as was the case with the Sarah Everard vigil earlier this year.

Secretary-General of the Muslim Council of Britain, Zara Mohammed said: "This Bill threatens to impinge greatly upon our rights to freedom of assembly and expression, as well as the public's ability to hold the Government to account. It will exacerbate pre-existing disparities in policing and the criminal justice system. These inalienable rights are essential components of any functioning democratic society and must be preserved."

The Bill passed unamended through the House of Commons despite high-profile critics including former police chiefs and former Prime Minister Theresa May who cautioned Priti Patel on the 'fine line between being popular and being populist.' In the House of Lords, the Bill received widespread criticism including from Dr David Walker, the Lord Bishop of Manchester, who compared the noise from a pop concert to a campaign for injustice: 'Both events may cause nuisance, but it is a strange set of priorities that make it less lawful to protest than to party.'

In signing the letter, the Lord Bishop of Manchester added: "Much in this Bill is both unnecessary and disproportionate. Existing laws already provide adequate remedy for when protests get out of hand, or are likely to lead to violence. This proposed legislation would also allow sweeping discretion for government ministers to define and change its interpretation to suit passing political whim. They will exercise their powers at the expense of ordinary citizens' rights to make their voices heard. Debate will be stifled and progress prevented on some of the most important and contentious issues of the day."
A flurry of amendments [265 to date] have been proposed for the Bill with many relating to part 4 on encampments. A national shortage of suitable sites and stopping places means Gypsies and Travellers are left with no places where they are permitted to stop. The Bill would for the first time make such activity a criminal offence and could lead to members of the Gypsy and Traveller having their home seized.

Mia Hasenson-Gross, executive director of René Cassin, the Jewish voice for human rights said: "This is a critical moment for communities of faith and belief to stand together and secure our rights to public worship and protest in the face of marginalisation. We must not stay silent as our rights to protest are disregarded, and our Gypsy and Traveller friends, with whom we share a history of persecution in Europe, are criminalised and robbed of their culturally nomadic way of life."

It is hoped that amendments are proposed and approved before the Bill returns to the House of Commons later this year.
Signatories:
David Walker, Bishop of Manchester, Church of England
Marie van der Zyl, President, Board of Deputies of British Jews
Lord Singh of Wimbledon CBE, Director, Network of Sikh Organisations UK
Zara Mohammed, Secretary-General, The Muslim Council of Britain (MCB)
Jamie Cresswell, Director, Centre for Applied Buddhism
Rabbi Leah Jordan, Kehillah North London
The Right Reverend Andrew John, Bishop of Bangor and Senior Bishop of the Church in Wales, The Church in Wales
Paul Parker, Recording Clerk, Quakers in Britain
Mia Hasenson-Gross, Executive Director, René Cassin, the Jewish voice for human rights
Paul Rochester, General Secretary, Free Churches Group
Revd Clare Downing, Moderator of General Assembly, United Reformed Church
Elizabeth Slade, Chief Officer, General Assembly of Unitarian and Free Christian Churches
Revd Sonia Hicks, President of the Methodist Conference, Methodist Church of Britain
Barbara Easton Vice-President of the Methodist Conference, The Methodist Church
Revd Lynn Green, General Secretary, Baptist Union of Great Britain
Neil Thorns, Director of Advocacy and Communications, CAFOD
Revd Martin Burrell, Chair, Churches Network for Gypsies, Travellers and Roma (CNGTR)
Olivia Fuchs, Chair, Eco Dharma Network
Elizabeth Arif-Fear, Founder and Director, Voice of Salam
Sue Claydon , Chair, Anglican Pacifist Fellowship
Shanon Shah, Director, Faith for the Climate
Isobel Ingham-Barrow, Head of Policy, Muslim Engagement and Development (MEND)
Naomi Green, Staff, Belfast Islamic Centre
Raheel Mohammed, Director, Maslaha
Revd Dr Darrell Hannah, Chair, Operation Noah
Scot Bower, CEO, CSW
Jonathan Herbert, Reverend Canon, Church of England
Dr. Narapa Stephen Johnson, Buddhist Chaplain, Buddhist Healthcare Chaplaincy Trust
Joseph Mishan, Member of Organising group, Extinction Rebellion Buddhists
Graeme Hodge, CEO, All We Can & Y Care International