Cork Library uncovers story of African-Irish Unitarian woman 200 years ago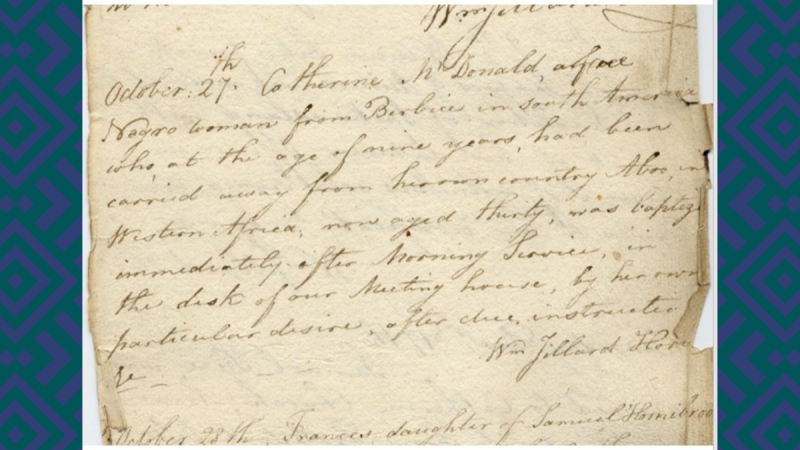 Librarians in the Irish city of Cork have uncovered an unusual baptism record of an African woman in the city's Unitarian Church from 1816. Catherine McDonald was forcibly taken at the age of nine from her homeland of Aboo in Western Africa to Berbice (present-day Guyana) is South America. Aged thirty and by then a free woman, Catherine chose to be baptised at Cork Unitarian Church in 1816.
Sharing the story of 'An Unusual Cork Baptism' on the Cork Library Facebook page, they wrote:
"Here we have a unique historical document belonging to Cork's Unitarian Congregation. Their church dates from 1717 and is the oldest place of continuous worship in the city. It is located on Princes Street in the city centre, recessed a little from the street, and was already long established when this baptism took place there on an October Sunday in 1816. All of 205 years ago. What's so special about that you may wonder? Another baby, another baptism. Well, this was no baby, baby, this was the baptism of an adult and the full record reads:
"October 27th. Catherine McDonald. A free Negro woman from Berbice in South America, who at the age of nine years had been carried away from her own country, Aboo in Western Africa. Now aged thirty was baptized immediately after Morning Service in the desk of our meeting house by her own particular desire after due instruction".
Berbice is now encompassed by the modern country of Guyana in the north-west of the South American continent, and Aboo relates to a region incorporated by current day Ghana. What became of Catherine? One wonders."