New ministry tutor appointed at Harris Manchester College Oxford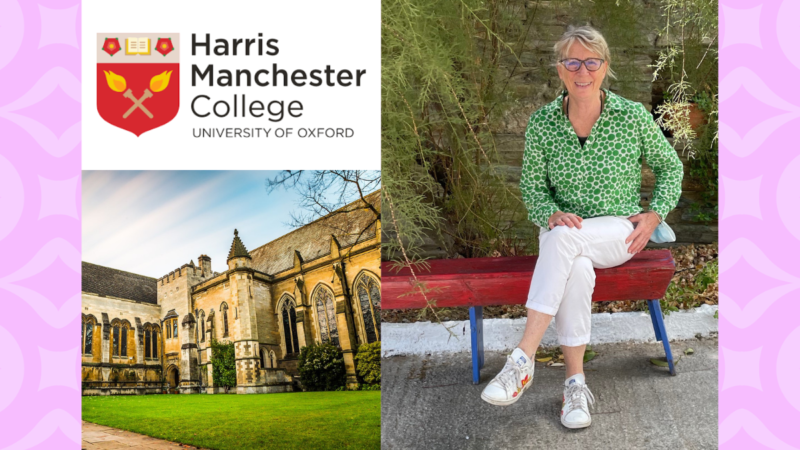 We are delighted to announce the appointment of Rev. Dr. Claire MacDonald as Tutor in Ministerial Studies at Harris Manchester College Oxford, which was founded in the eighteenth-century by Unitarians and today is one of two colleges which train people for the Unitarian ministry in the UK, along with Unitarian College.
Rev. Claire says: "I am thrilled to have been appointed as the new Unitarian ministry tutor at HMCO. It is the college where I trained as a minister and a place whose commitment to inclusion and diversity is matched by its commitment to creativity and innovation. It's wonderful to feel that I too will be part of shaping its future. It will also be an honour to share new possibilities for ministry education with colleagues at Unitarian College.
Radical collaborative, spiritually rich, approaches to education have been part of our long history as Unitarians and I look forward to being part of developing life-long learning for lay leaders and communities as well as present and future ministers. As we say at Lewisham Unity, it's where sacred meets social."
Professor Jane Shaw, Principal of Harris Manchester College, says: "Claire MacDonald's dynamic vision for ministry is very much in tune with the college's longstanding commitment to educational innovation and inclusion, and her wide-ranging background and gifts in the arts will be greatly valued by colleagues and students. We all very much look forward to welcoming her to the college and working with her."
Unitarian Chief Officer Liz Slade says: "Rev. Claire McDonald's appointment as Tutor marks the start of an exciting new chapter in our movement's long relationship with Harris Manchester College. In this time of great societal change and uncertainty, the role of ministers in serving the spiritual health of communities is more important than ever, and we know that the future of ministry will look different to its past.
I know that Claire's thoughtful and creative approach in collaborating with colleagues at Harris Manchester College, and at Unitarian College, as well as partners beyond our Unitarian movement and outside the traditional borders of faith communities will help us to ensure that Unitarian ministers are equipped to serve the congregations of the future."
Unitarian ministers serve their communities by supporting their spiritual health. They do this by hosting the inspiration and togetherness of services and gatherings, sharing wisdom reflecting their own theology while holding space for learning and reflection from other perspectives; they help build connections between members of a congregation, and with partners in the wider community; they provide pastoral care, as well as encouragement and challenge; they help their congregation to serve their community and the wider world, and work towards making a more just and loving society.
Anyone interested in knowing more about leadership in the Unitarian movement is encouraged to read more on our website, attend a Ministry Inquiry Session, or get in touch with Simon Bland (Ministry & Congregational Support Officer).