Welcoming three new ministry students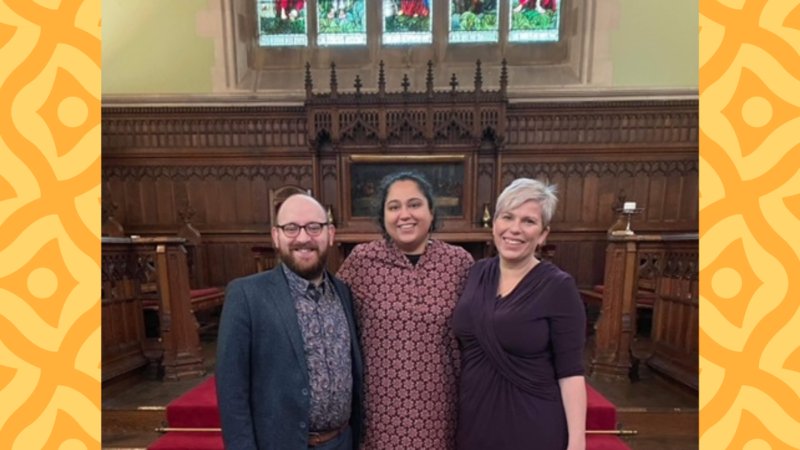 The General Assembly of Unitarian and Free Christian Churches is delighted to announce the following candidates have been offered Ministerial Training following the interviews last month: Kieren Mardle-Moss, Tina Gandhi, and Janine Sim.
Chief Officer Liz Slade: "Ministry is the kind of leadership our world needs more of right now, and so I am excited and grateful to see Janine, Kieren and Tina begin their training towards becoming Unitarian ministers. As demonstrated by these three new students, people from all walks of life and professional backgrounds find themselves called to serving the spiritual health of communities and align their vocation to the greater good. I applaud their courage and integrity in committing themselves to this journey and look forward to working with them."
Helen Mason, Director of Unitarian College: "We are delighted to welcome Janine, Kieren and Tina as our 5th intake of ministry students at Unitarian College, joining the 13 others who have or are undertaking ministry training with us. We are are very excited about the potential of these three excellent new students."
Rev. Ant Howe, Ministry Tutor: "It will be my honour to journey with these three new students as they build on the calling that they have been bold enough to answer. All three bring passion and commitment to our Unitarian movement, and I know that they will go on to become excellent Ministers"
Supporting our General Assembly's Interview Panel is one of the tasks handled by Simon Bland, Congregational & Ministry Support Officer. Along with Sarah Tinker, who chairs the Panel, Simon is keen to thank all those Districts, congregations and individuals who support the ministerial training process. 
Anyone interested in knowing more about training for Unitarian & Free Christian ministry is encouraged to talk to Simon or Sarah, and to our college tutors – Rev. Claire MacDonald at Harris Manchester College, Oxford and Rev. Ant Howe, at Unitarian College. 
The Ministerial Students Fund is always in need of donations, large and small, helping to cover students' travel and living costs during their training, and is a real investment in the future of the movement. Please contact Simon Bland for further information on this vital work.