Unitarians offer a "loyal address" to King Charles at Buckingham Palace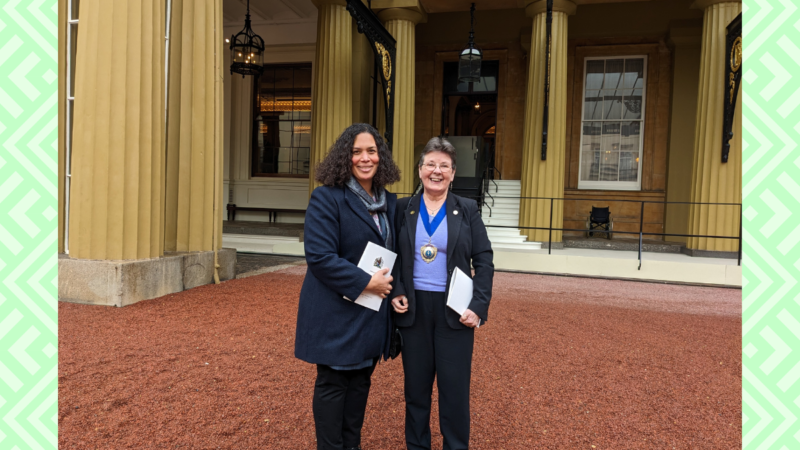 Pictured: Rev. Kate Dean and Rev. Sue Woolley at Buckingham Palace
Unitarians were among faith and civic leaders who visited Buckingham Palace last week to offer a "'loyal address" to the new monarch, King Charles, in a tradition filled with pageantry, symbolism and history. The Unitarian delegation was made up of Rev. Sue Woolley (President of the General Assembly of Unitarian and Free Christian Churches), Rev. Kate Dean (Rosslyn Hill Chapel, Hampstead), and Rev. Dr. Rob Whiteman (Dundee Unitarians).
They presented a "loyal address" to King Charles, as a historic 'privileged body'. The address congratulates the new monarch and speaks of social needs at "this time of complex change and crises" when "the need for spiritual support and loving communities has not been greater". You can read the address in full here.
Rev. Dr. Rob Whiteman has written a personal reflection about the experience, which you can read below:
"I was immensely honoured to represent Unitarians as part of the Free Churches delegation at the Presentation of Loyal Addresses to His Majesty King Charles on 9th March at Buckingham Palace. It was a remarkable occasion for a number of reasons. We were among the 27 Privileged Bodies who presented their Loyal Addresses to The King, serving to emphasise and reaffirm their loyalty to the Monarch to mark His Majesty's Accession. Obviously an occasion that happens rarely and has happened since the 17th century. The bodies cover various Churches, Universities and civil authorities in London, Edinburgh and Windsor.
The pageantry of the event was a wonderful spectacle – slick, seamless and impressive. The event was in the Palace Ballroom with a following reception in the Picture Gallery – recognisable spaces from the TV but more impressive in reality. However there was a subtle understatement despite the surroundings, presence of a Beefeater guard and many uniformed staff. Around 400 people attended, many of them wearing formal robes befitting their offices; many of them well known faces.
All the bodies presented their addresses with a wide variety of speakers before His Majesty replied. In those addresses many marked and reflected on the great service of Queen Elizabeth II, paid tribute to His Majesty's work in many fields and wished him a long and gracious reign. Only a couple jarred with overt attempts to push their own agendas. The place of faith in the tributes was noticeable. In his reply the King noted: "Whether in the fields of education, science, or the arts, or whether as representatives of the faith communities or of civic organisations, you advance our knowledge and our understanding of how we relate to each other and the world about us. You underpin the very foundations upon which our country is built and help to construct a framework of excellence and achievement within which our civil society functions and our national narrative can be formed.
In doing so, you are admired around the world for your contributions to public life. You remind us of an essential truth – that a nation's wealth and strength can be found, beyond the size of its economy or its place in the geopolitical landscape, in the values that it embodies – mutual respect, diversity, tolerance, fairness and friendship. These are values that have been at the core of British life throughout our history, and which, with your dedicated support, I trust will remain so for centuries to come."
Those words echoed in my reflection on the day. We may live in a world of twitter spats, 24 hours and whipped up outrage but what lies beneath that is far more important, enduring than permanent. Those gathered represented some core of the civil society at the heart of our country: a warm, generous, hard working and inclusive people. Let me illustrate with a couple of examples of the first and last people that I spoke to. There were no set seats and I found myself sitting next to the Succentor of St George's Chapel at Windsor, a man charged with part of the musical life at that chapel. I said where I was from and he said that he had recently been in St Andrews so that his son could look at the University and meet up with his godfather. His godfather turned out to be a good friend of mine and we talked of his former work in housing.
The last people that I spoke to at the reception were the Lord Provost of Edinburgh and his partner. He and I looked at each other and recognised each other. The task was then to work out where we knew each other from. He had been Chief Executive of a Housing charity while I had been working for a Refugee charity that rented a desk in their offices. In between I had made many other such connections with people in the room, the degrees of separation were astonishingly small, perhaps aided by their being a large number of people from Scotland in attendance, at least a fifth and perhaps more.
Meeting the only full time clerical member of the Royal Household was another fascinating encounter. When I said that I was a Unitarian he showed great interest and said that he often visited Unitarian chapels. He grew up in the northwest and said that Unitarians had a fascinating history of which we should be rightly proud. I suspect that some Unitarians will have mixed feelings about our participation in this event. I do not share them. It was a great privilege on a number of levels. Some may wonder about the Unitarian values of inclusion. It may have been the metropolitan constituency from which the attenders were drawn and the care with which the various Privileged bodies had chosen their delegations but the gathering was far more diverse than any Unitarian gathering that I have attended. I am not going to elaborate on that but most people were simple, ordinary people getting on with their jobs, representing their Body and embodying the values of "mutual respect, diversity, tolerance, fairness and friendship" of which His Majesty spoke. I was honoured to be there and we are fortunate that those "values… have been at the core of British life throughout our history." That remains true whatever the political froth may suggest." – Rev. Dr. Rob Whiteman