Spring funding boost for Westgate Unitarian Chapel, Wakefield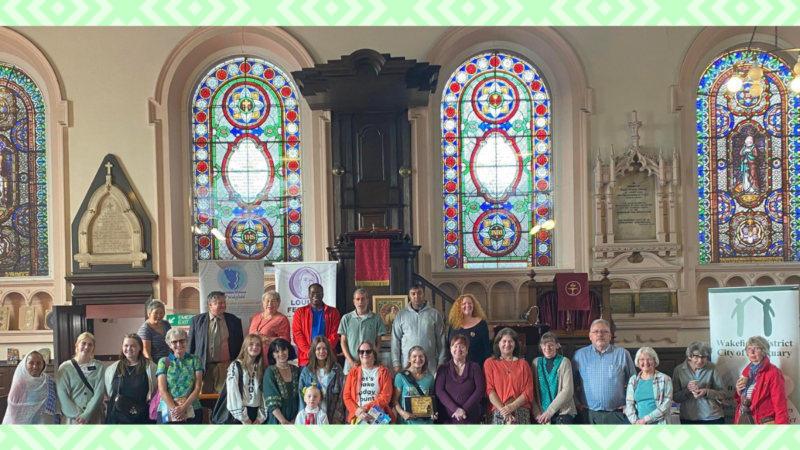 A much-loved Yorkshire chapel is to share in a £351,500 heritage funding boost from the National Churches Trust.
A £25,000 National Churches Trust Grant will help to pay for urgent repairs to the Grade II* Listed Wakefield Chapel, replacing failing mortar and rebuilding a wall, ensuring the church building can thrive today and tomorrow.
The church also receives a £10,000 Wolfson Fabric Repair Grant from the Wolfson Foundation on the recommendation of the National Churches Trust.
Broadcaster and journalist Huw Edwards, Vice President of the National Churches Trust, said: "I'm delighted that Westgate Chapel is receiving funding for urgent repairs. This will safeguard the unique local heritage of this fascinating place of worship, and keep the building open and in use for the benefit of local people in Wakefield." 
"Whether seeking quiet reflection, access to community services or as a place to worship, the National Churches Trust helps hundreds of churches each year and with the support of local people, keeps them thriving today, and tomorrow." 
Paul Ramsbottom, Chief Executive of the Wolfson Foundation said: "As well as being places of worship and buildings of beauty, churches sit at the heart of the community. In many ways they stand between the past and present. We are thrilled to continue our partnership with the National Churches Trust to support the preservation of these significant, much-loved historic buildings across the UK." 
Help for churches
Twenty-one churches across the UK will stay open and in good repair thanks to £351,500 of funding awarded and recommended  by the National Churches Trust in this latest round of grants.  In 2022, the National Churches Trust made over 255 grant awards to churches throughout the United Kingdom, with funding totalling more than £1.95m.
In 2023, grants continue to be available churches of any Christian denomination that are open for regular worship to fund urgent repairs, maintenance, installing loos or kitchens and feasibility studies to develop projects. Full details are available here.
The chapel
Westgate Chapel is a fine red brick Georgian building, Listed Grade II*. The architect is likely to be John Carr of Horbury and York. It is the oldest nonconformist chapel still used for worship in the local region.
It possesses many fine features including its pulpit, first erected in an earlier chapel, an interesting Booths organ manufactured in 1847, and a bell tower with a bell is said to date from 1799. Under the chapel are the first set of catacombs for public burial in the north of England, completed before the chapel. Amongst those interred in its catacombs are industrialists, innovators, merchant princes, members of Parliament and political radicals.
Memorial windows by Heald & Co of Wakefield commemorate Mary Gaskell, wife of Daniel Gaskell MP; Mary Ann Milnes of Flockton who ran a colliery and iron works; Rawdon Briggs of Halifax, banker and merchant and James Milnes, MP for Bletchingley. A pre-Raphaelite window in the style of Morris & Co was erected in 1881 to the memory of Thomas Wood, a wealthy draper.
The project
The grant from the National Churches Trust will facilitate replacing failing mortar and rebuilding wall where it is destabilised.
Spokespeople for the Chapel said: "We, at The Board of Trustees at Westgate Unitarian Chapel are absolutely delighted about the success of the funding application to National Churches Trust.  This money will ensure that not only will the building be made good but that the different communities we serve, the historical and heritage stories we tell and the vibrant cultural offering we have, will continue to benefit everyone for years to come."