Unitarian leaders gather in Prague to discuss future of Unitarianism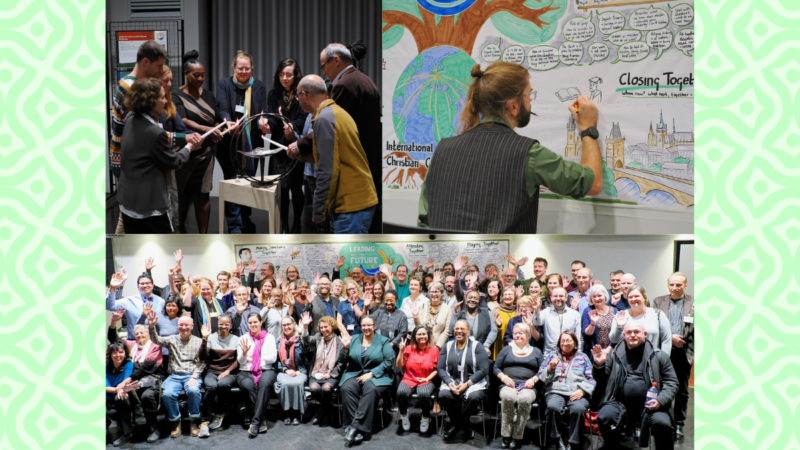 Several leaders from the UK gathered in Prague for the 'Leading to the Future' event, convened by Unitarian College, the Czech Unitarian Church and the Unitarian Universalist Association International Office.
Members of our global network from Brazil, the US, Canada, Bolivia, Kenya, South Africa, India, Transylvania, the Netherlands, Australia, and the Czech Republic gathered together building connection and exploring ideas about theological education.
The Prague gathering was also the first in-person meeting for the Leadership Design Team who have been meeting virtually since 2021 to develop a future vision for international collaboration.
You can learn about the ideas and share your feedback with the team at any of a series of online meetings on Monday 20th November, 3pm (UK) and Thursday 30th November, 7pm (UK).
Helen Mason, Director of Unitarian College said:
"What a joy it was to gather with Unitarians/Universalists and Free Christians from across the globe in Prague.  We engaged in deep worship, thoughtful discussion and plenty of networking and collegiality. Unitarian College is proud to have been part of the organising team for the event and we are grateful to the Hibbert Trust for a generous grant that contributed significantly to the success of the event. Focussing on how our faith will develop and grow in the next 20-50 years and what leadership we will need to thrive in our different global environments was challenging and inspiring. New working groups have been established to take the conversations forward."
Alicia Forde, UUA International Director and one of the event's organisers said:

"On the first morning of our Leading into the Future convening, we worshipped, our voices weaving together: "Where you go I will go, Beloved." We were a joyful choir coming home with and to each other. Touching the past while reaching forward to shape, and be shaped by, the future.

I felt inspired and hopeful, witnessing the promise of our global faith and the sheer beauty of our voices meeting each other after such a long time. In our subsequent days together, I appreciated our dedication to a continuous discovery and weaving. Exploring new questions even as we rest on the foundation of the past.

I'm grateful for everyone's investment. I'm grateful for the Leadership Design Team's vision. I'm grateful for this gathering of global U/U & FCC siblings who want to press toward the future, exploring: Educational and leadership development; Funding and Sustainability; Young Adult connections; Theology & Thought and so much more.

Together we remembered that we are not alone and there is so much we have to offer to each other and the many worlds we inhabit. What a joy and inspiration this has been!"