AGM 2021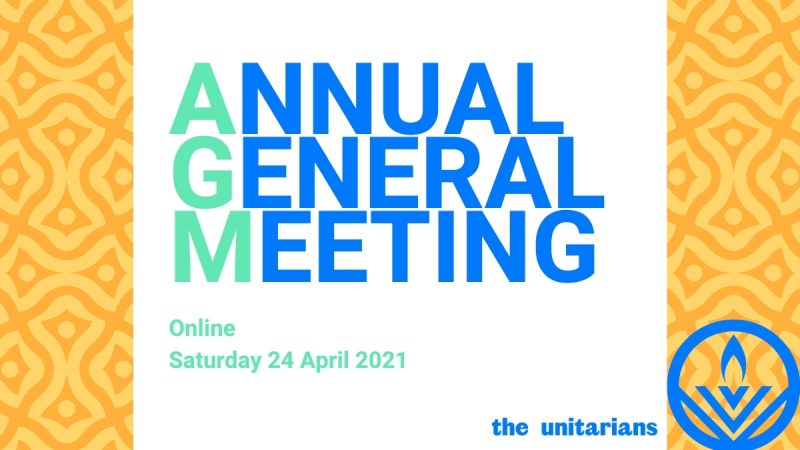 We are holding our Annual General Meeting online on Saturday 24 April 2021 to cover the business and decision-making for The General Assembly of Unitarian and Free Christian Churches. This will include debating and voting on the range of motions put forward by the community, as well as honouring the President for her term of service, and welcoming the new President and Vice-President.
Registration is now closed.
As we are unable to gather safely in person this year, and will be relying on technology to allow us to be together, we will not be trying to recreate the usual experience of our Annual Meetings online; things will be a bit different.
annual report
You can read our 2020 Annual Report in full here.
So what will this year's AGM involve?
Broadly we expect there to be about four hours of 'business' split across multiple sessions with breaks in between, on Zoom. The AGM will begin at 11am and finish by 5pm. Voting on motions will take place online through a different programme. Delegates will receive full instructions on the voting process in advance.
Do I need to register and how much will it cost?
Registration is now closed.
WHAT ELSE WILL BE HAPPENING?
We will be gathering online for worship the night before the AGM, on Friday 23 April 2021. On 24 April, the focus will be on the AGM matters only, and we won't be trying to squeeze in other events like Affiliated Society events, or our own training sessions, workshops or lectures. We are intending to offer opportunities to gather over several months instead, to connect, learn and explore together. Some of the Affiliated Societies will be running their own events online in the summer. We'll let you know about these through Uni-news and on the What's Happening page.
motions
Six motions have been put forward, of which four will be chosen to be voted on at the AGM. The vote to decide which four progress will be taken at the beginning of the AGM – so you need to decide which are most important to you.
You can find the motions and background papers here.

Congregations are strongly encouraged to discuss the motions together and instruct their delegate on how to vote. This year, in-person discussions won't be possible – so how will you organise your discussion? Using Zoom, by phone, or another way?
documents for the agm
If you have any questions about the AGM, please get in touch with us.