Gellionnen Chapel makes the headlines for LGBTQ inclusion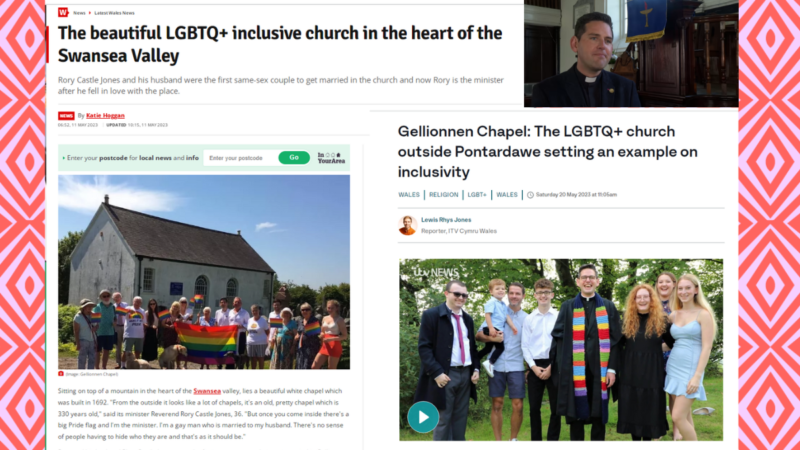 Gellionnen Unitarian Chapel has made the headlines in the Welsh media this month for its LGBTQ inclusion, with the congregation featuring on ITV Wales' 6 o'clock news, Wales Online, and the South Wales Evening Post.
Gellionnen Chapel, near Pontardawe in the Swansea Valley, is the only place of worship registered for same-sex marriage in Neath Port Talbot, and one of only a small number across Wales, many of which are Unitarian. The chapel is proudly LGBTQ inclusive – taking part in Pride marches, organising a monthly LGBT+ multi-faith gathering, and welcoming LGBTQ people into its congregation.
The chapel's minister, Rev. Rory Castle Jones, who himself married his husband at the chapel, told ITV Wales: "I grew up attending various churches of different denominations. As a teenager, like many LGBTQ teens, I didn't feel welcome in those places. It was only a few years ago when I came to Gellionnen that I found an inclusive church. I had given up to be honest, and I think that's true for many LGBTQ+ people. It's important to me to say that there are places where you can be welcome as an LGBT person in a church or a chapel."
Sean Walker, a regular attendee said: "When you come to this church, you see a pride flag as you walk in, we do pride special services. In the past I've been to a church that did try to change me and didn't accept who I was. After that I wanted to walk away from religion. When I found this place it restored my faith."
Sandra Beynon, Gellionnen's Authorised Person for weddings, said: "It's a very modern chapel and welcomes everybody. Love thy neighbour is our motto."
Find out more about same-sex marriage in Unitarian churches here.
Find out more about the Unitarians' LGBT+ history here.