LGBT+ Exhibition brings community together in Ipswich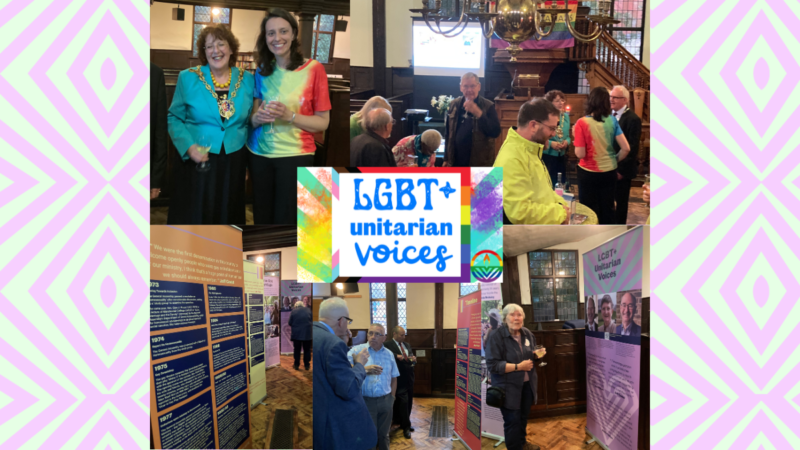 Friday 14th July saw the launch of the LGBT+ Unitarian Voices exhibition at the stunning and recently renovated Ipswich Unitarian Meeting House in Suffolk. The event included chalice lighting and a reflective introduction from Dr Lizzie Kingston Harrison, on of the exhibition's creators, on the importance of lifting up the voices of marginalised groups within our movement, the moving ways in which storytelling can help us understand others and find acceptance ourselves, and an overview of the actions that prominent Unitarians have taken to change the cultural story around LGBT+ inclusion.
With plenty of time to explore the in-person and online elements of the exhibition and plenty lots of drinks and nibbles, the evening was a positive and exciting way to launch the touring exhibition banners and encourage people to share their own LGBT+ Unitarian stories.
The Mayor of Ipswich and local councillors were in attendance and left with a deeper understanding of our inclusive movement and the positive influence that Unitarians have had, especially during the campaign for same-sex marriage. 
Rev. Cliff Reed followed up the launch of the LGBT+ Voices exhibition with a Pride service the following Sunday. Ipswich Unitarians have a long history of standing up for LGBT+ rights, have attended local pride events for many years and are delighted to be licensed to carry out same-sex weddings.
View our online LGBT+ Unitarian Voices exhibition here.
Interested in hosting the LGBT+ Unitarian Voices pop-up exhibition in your venue, church or community space? Get in touch.