Peter Tatchell to welcome LGBT+ Unitarian Voices Exhibition to Golders Green Unitarians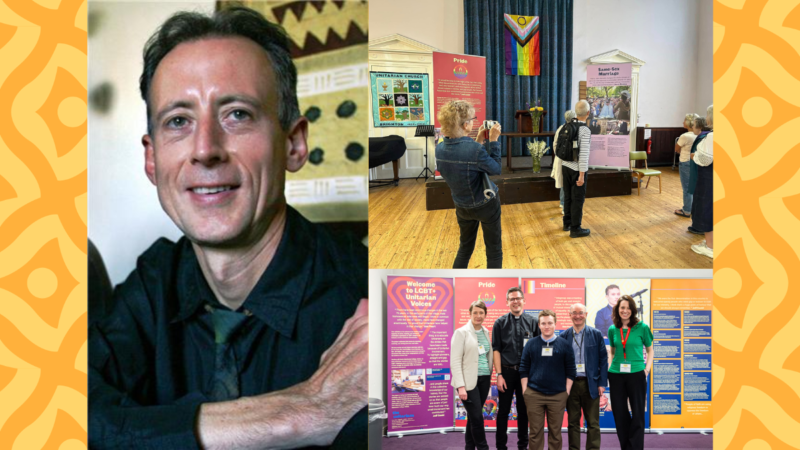 Peter Tatchell, legendary human rights campaigner is speaking at the Unitarian chapel in Golders Green on Saturday 9 September to launch the arrival of a new exhibition of LGBT+ Unitarian Voices exhibition.
The exhibition tells the story of LGBT+ Unitarians and the place of Unitarian pioneers in the struggle for equal rights from the pre-1960s to the present day.
The exhibition now touring Unitarian congregations around the country includes material on Golders Green Unitarian (GGU) chapel's pioneers of faith – Dudley Cave, co-founder of Gay Switchboard and the Gay Bereavement Project and GGUs then minister Rev. Keith Gilley.  The online exhibition can be viewed here and features interviews with Rev. Dr Ann Peart, who came out as lesbian while minister with GGU. 
Since Ann went on to be the first woman principal of a theological college, GGU has been served by two openly gay ministers, Rev. Feargus O'Connor and Rev. Michael Allured, who married each other in GGU's sister Unitarian Chapel in Rosslyn Hill.
Join us on 9 September at 4pm at out launch event where secular and sacred meet. RSVP to Rev. Michael Allured the minister with Golders Green Unitarians.
The launch lasts around an hour and afterwards there will be time to look at the exhibition, including some of GGU's archives, and for conversation and sharing memories over refreshments.
Golders Green Unitarian chapel on Hoop Lane, NW11 8BS is a 5-minute walk up Finchley Road from the Northern Line underground (Bank branch).